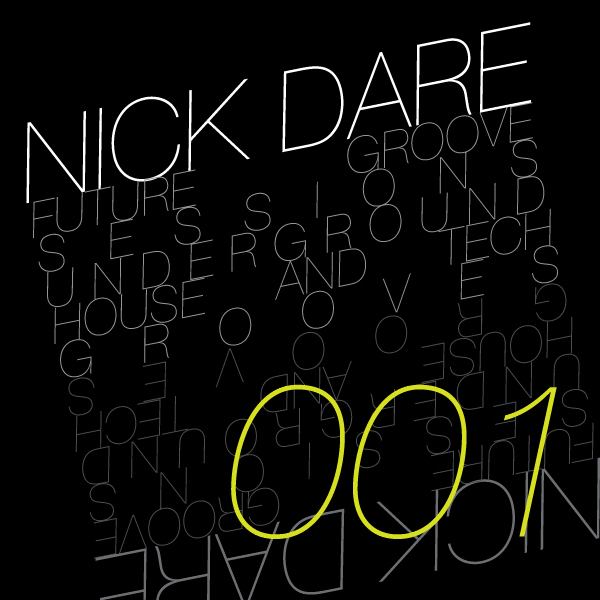 Nick Dare Future Groove Sessions Underground House & Tech Grooves 001
Kicking off with the first in the series this Podcast includes a sublime mix of underground house grooves and techy beats, featuring some of my own released and unreleased tracks. Enjoy!

Podcast track listing
01 - Carl Finlow - Swoon - Green Light Recordings
02 - Dominic Martin – Touch Of Soul (Milton Jackson Rmx) - Lost My Dog
03 - Marcel Wave – 27 Holton - Freerange
04 - Nick Dare – On the floor - Detour
05 - Hosh – Drums of Spring - Dynamic
06 - Nick Dare – Machines - Xclusive unreleased
07 - Elizabeth Troy - Higher Ground (Capricorn club mix) - Soul Purpose
08 - Steve Bug & Cle – Silicon Ballet E.P. - Poker Flat
09 - Mr G – Custom Made - Promo
10 - Radio Slave – Tantakatan - Re Kids
11 - Jimpster – Got a hold on your Soul - Freerange

Biog Nick Dare
Having been caught up in the explosion of the B-boy scene in the early 80's Nick quickly developed a passion for underground music and culture. Inspired by the turntablists, crews, rappers and pirate stations from that era Nick soon caught the vinyl bug and began collecting the sounds which changed electronic and urban music forever. With an ever growing record collection and the arrival of House music in the UK it wasn't long before he was ready to make his dj debut. Nick hit the decks in the early 90's playing the post acid house London club circuit and soon became a regular at venues such as Ormonds, Villa Stefano, Bagley's, Soundshaft, Club UK, Velvet Underground, Leisure Lounge and the Gardening Club.

In 2001 Nick launched Reform Recordings, a label renowned for pushing quality underground house, achieving worldwide sales in vinyl and digital format and featuring in the pages of DJ, IDJ, DMC, Update, M8, TTR, Resident Advisor and 365 Mag. Reform has received Club and Radio support from an incredible variety of DJ's and producers including X-Press 2, Tom Stephan, John Digweed, Rui Da Silva, Paul Woolford and Lottie (Radio One). The label has mainly featured Nick's own productions recording under the names of Nick Dare, Overdrive and Liquid Dreams.

Around the same time Nick secured a residency at London club night Prologue which ran for three years or so at both The Cross and then EGG before moving to its current home East Village in 2008. Over the years Nick has played alongside some of the worlds most pioneering djs including David Morales, Satoshi Tomiie, Terry Francis, Brett Johnson, Dj Heather, Norman Jay, Inland Knights, Matt Tolfrey, Giles Smith, Rocky & Diesel (X Press 2), Terry Farley and Trevor Fung. With over 15 years experience Nick's DJ sets are highly sought after and encompass a sublime mix of underground house and tech grooves. In edition to his residency at Prologue Nick continues to appear at some of the UK's most influential clubs and parties. Recent highlights include Fabric, Kerfuffle, Bar 54 and Dex as well as sets in Europe.

Production wise Nick has continued to release tracks and remixes on notorious labels like Lost My Dog Records, Tango, Wiggle, Detour and many more. These tracks have picked up regular support from djs such as Darren Emerson, Laurent Garnier, M.A.N.D.Y, Hipp-E, Mark Farina, Inland Knights, Robert Owens, Jay Tripwire and Lawnchair Generals to name a few. His tracks have been featured in various famous compilations which include Bora Bora Black White Beach, Deep in House vol 3, Queen Club Paris, and Terryble Planet mixed by DJ terry (France). Nick's productions have also been remixed by huge talents Burnski and Pete Moss.

Each year is a new challenge for Nick and with more releases and new projects underway, 2010 looks set to see his music reach wider audiences across the globe.
www.myspace.com/nickdare
nickdare@reformrecordings.com
// ART / PODCAST / CREATED BY DARREN@ULTRA-PLAY.CO.UK